Culture shift evident after American Airlines merger
FORT WORTH — Exactly one year after US Airways merged into American Airlines, progress is subtle, but tangible.
"We're getting a new aircraft delivery every four days and replacing an older airplane," said American CEO Doug Parker.
Attitude matters here, and it appears to originate from Parker's sixth floor corner office.
It's the first time News 8 got an invitation to visit the executive suite in years, and marks a cultural change at the Fort Worth-based carrier.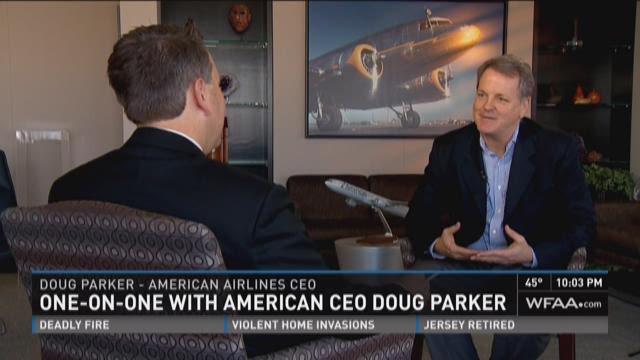 Doug Parker talks with WFAA's Jason Whitely about his first year as chief executive of the world's biggest airline.
Jason Whitely / WFAA
The change isn't just characterized by stunts like the CEO dressing up as a member of the band One Direction for Halloween.
But Parker removed the security desk outside the executive offices, knocked out a wall, and opened up his private office to employees.
He rarely wears a coat or tie, and employees say Parker and other executives regularly eat in the employee cafeteria — unlike some predecessors.
"The important thing in the airline business is the people that are on the line working every day," Parker said. "Our job in management is to support those people... not to tell them what to do, but give them the tools they need to do their jobs because they know how to do it."
A year ago, Parker led the merger of US Airways into American. A single operating certificate from the FAA is expected in the next six months.
"What I hear from our customers is, 'it feels different,'" Parker explained. "The employees are engaged and excited. We have some work to do there, of course. I'm not suggesting by any means this is over, but attitude matters."
In the last 12, months, the new airline has enjoyed large profits. Just this week, American announced $2 billion in investments, including:
new seats on several aircraft types

satellite-based Internet access for international flights

upgraded Admirals Club lounges

more tables and plugs for passengers waiting at gates
Next month, American gets its first Boeing 787 Dreamliner, a lighter, more fuel efficient aircraft.
"It'll be a nice growth aircraft for the airline, and one that our customers we know will enjoy," Parker said.
American has not settled on which routes its initial Dreamliners will fly.
"The first ones that come in will fly around the United States to make sure we get all of our systems in place and get people trained on the aircraft," Parker said.
American — like all carriers — is closely watching declining fuel prices and considering whether to hedge them. If it worked, it could mean cheaper fares for passengers, and additional profits for the airline — something Southwest Airlines successfully did a few years ago.
"We look at it all the time," Parker told News 8. "We haven't made the decision to do anything in that regard historically, and we've been beneficiaries of that as prices have fallen. We continue to look at it, but at this point have not decided to do anything."
Parker also confirmed that American is still considering whether to move its headquarters to a new location in North Texas.
"I was here when we moved into this building back in 1991 when I was at American a long time ago," he said. "It's getting on in years. We think it makes sense to at least look to see if there might be something else that we could get done. We're doing that. That's all that's going on right now."
American is looking at existing buildings and property, he added, but no change is imminent.
When asked whether American would scale down or ramp up any of the US Airways hubs in Charlotte, Philadelphia, or Phoenix, the CEO said his airline remains committed to them all.
"All the hubs are doing extremely well. They're doing better than they were pre-merger," he said. "They work very well together. Each of those hubs provides a great benefit to the network in total for what they do. So we're very happy with the hub structure."
But working with labor hasn't been as easy.
"Trust is earned, and it takes time," Parker said. "While I would like it right out of the bat that everyone would trust our management team, we've gotta earn that."
American's flight attendants have already rejected a contract, and are now in arbitration.
Parker's team is currently negotiating a new pact with pilots that could also end up in arbitration if rejected by the rank-and-file.
"What we didn't want to do was have integration delayed by contract negotiations," Parker said, explaining why the company and labor unions agreed to that arbitration clause if both sides couldn't settle on a new collective bargaining agreement.
"One way or another we will get to joint contracts," he added. "They will be much better contracts than either our pilots or flight attendants had in place prior to this process."
Doug Parker is confident he will eventually earn the trust of his 120,000 employees. It's something the new CEO will need to sustain momentum at the world's largest airline.